Me singing with my mates "Highway to Hell' an AC/DCtribute band at GATORS on treasure island.
March 24th gig Chasco Fiesta NewPort Richey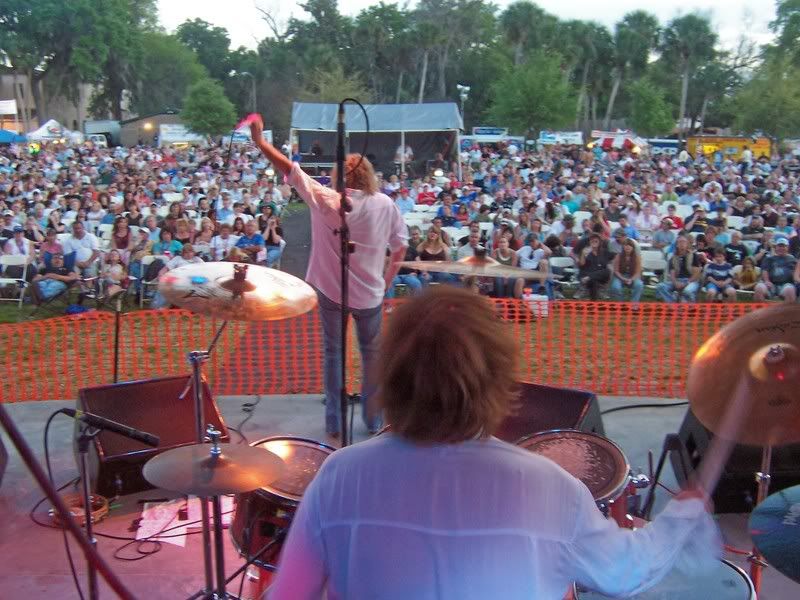 un-official-ish Photo:Kirk Mason


OH MAN!
I feel like I've been running around naked for months and months with no contact with the outside world.
You see, my first computer bought in Dec 1999 (I believe..I could be wrong it was so long ago) anyway, it was soooooo slow and I refused to fall for the manufactures ploy and the undeniable pressure from 'the jones's' to keep up and buy the latest gadgets and new computers.

Well, it got to a point about a month ago (somewhere around there) where it was running so bad I had no choice but to get a new one.
Now, I really didn't want to go to bestbuy and deal with the kids there who sell everything from Godsmack cd's to computers and who basically know more about godsmack than the computers !
So I end up calling Dell and was walked through the process with babysteps as I really am an old fart when it comes to technology, and to be honest with you it's quite intimidating...but I manage.

So I get the dell xps,windows vista with all the bells and whistles , 19"flat screen etc etc
Man oh man this sucker does everything but make you breakfast (and it may even do that I don't know!)
One problem......I'm the one who has to figure it out ;\ .... aye- ya- aye

Long story short, I've been naked for months and disconnected to the outside world because of this, but I am finally immersing myself back into the technical waters of which I'm nervous about swimming in, but I seem to be floating and will eventually be surfing with the rest of you.

On another note, now that I have access to update shows on our website I'll just be posting them there and not here.
The new site is so so at the moment with a lot to be fixed up and to be honest I'm having real bad luck with webmasters.
I can't seem to find one who is as good as they say they are and who keep the site up, it's very frustrating, so bear with me ;(

The year is not panning out as fruitfull as I had wanted it to, and what gigs we do play have ended up being a lot of hard work and financially abismal.
I mean I love playing ,but it's getting to the point where I'm tired of the stress leading up to the 2 hours of pleasure playing live.
I don't know maybe this year will be my last, I'm leaning that way, but you never know.


On a happier note , the last gig with Foghat was a great one playing for thousands of people.
I have video and photo's, which as soon as I can figure out this damn computer I'll post them.

If you can't see this video, go here>>>>> http://s6.photobucket.com/albums/y239/MusicMan515/Wholigans-Smashing%20Videos/



PHOTO'S
http://s6.photobucket.com/albums/y239/MusicMan515/Chasco%20Festival-March%202007/
_______________________________
We'll be in Canada April 26th/27/28 ...and Atlanta on the 29th for a big outdoor show
then back to Canada for a bit, and finishing May 10th there and on the 11th back in Florida headlining an outdoor show at the Toronto blue jays spring training baseball stadium in Dunedin Florida where our dressing room is the jay's locker room, how funny is that ! :)
Apparently the stage is set up over the 2nd base..............PLAY BALL! http://www.ballparkreviews.com/dunedin/dunedin.htm


OH YEAH..
I nearly forgot, I saw The Who in Tampa not long ago.(March 25th I think)
It was good,not great, but good enough, I enjoyed it.
They cancelled the show a week or two prior which I wasn't very happy about ,to be honest I was fucking mad !
But they made up for it.

I think that possibly this was the last time I will go see The2 (oops;) as it cost me a lot of time money and energy, and I'd rather put my energy (& money) into something a little less hard work and more enjoyable stresswise.
Don't get me wrong , I enjoyed it but I actually had more fun the next night going down to a club called Jannus Landing about 10 minutes from my house, and we saw an excellent band from Australlia called JET. http://www.jettheband.com/
They were fantastic , and they had so much energy that it poured out into me and I danced my ass off all night down at the front of this 1000 capacity outdoor venue.
Great band !

Also I went out last night and saw my mates in an AC/DC tribute band and I got up and sang 'Highway to Hell' and also got up and butchered 'whole lotta rosie' , but hey everybody seemed to like it and apparently so did I , or at least so I was told when awoke today in a stench of last nights liquor still clinging to my tequila soaked throat ;} (see photo's at the top of this page) http://www.highwaytohell.info/

Rock n roll is so much fun ,I don't how I'd live without it :)


Here, have a laugh
The Wholigans 2045....talkin bout my generation






Barry

WHO ARE THE WHOLIGANS